Summer Clothing Essentials
Summer Clothing Essentials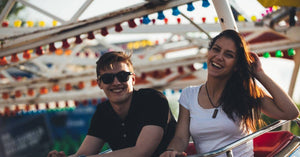 Summer is here, and that means it's time to update your wardrobe to the latest and greatest styles! While some summer staples stay the same from year to year — sandals, floppy hats, amazing shades — there are definitely some summer fashion trends that get a makeover every year. In today's post, we will discuss some of the summer clothing essentials that you must have in your closet.

Looking for that perfect shirt that will make your summer the best it can be? At Saturday Morning Pancakes, we have just what you've been looking for! We offer an extensive selection of puntastic throwback shirts that are sure to put a smile on your face, as well as the faces of those around you. Whether you're looking for a shirt that will have all the like-minded people nodding in approval as you walk by or you want something that will show off your sassy personality, we've got it all. Explore our collection of unique throwback shirts, and buy your favorites today! In the meantime, continue reading below to see what items you should be looking for as you begin your summer shopping.
Denim Jacket
If you live somewhere warm, you may be thinking that a denim jacket just isn't going to fly, no matter how good it looks. However, as the sun sets each night, but you're not done hanging out with your friends, you might be singing a different tune. The great thing about denim jackets is they look good with almost anything, and they make the perfect layer for those summer nights that might get a little chilly. Pair your denim jacket with a cute throwback tee from Saturday Morning Pancakes, a pair of your favorite pants, and a nice wedge sandal, and you'll be the best-looking person wherever you go.
Colorful Tote Bag
Who doesn't love a good tote bag? Tote bags should be an essential part of your wardrobe regardless of the season, but they are especially important during the summer! One of the best parts about summer is walking to your favorite local farmer's market or stopping into small shops as you walk through the downtown area or on the boardwalk. However, what do you do with your purchases? If you try to carry them, you run the risk of having to worry about your belongings wherever you go, and most purses are not big enough for all the great stuff you want to buy. A colorful tote bag is the only solution! Not only will it complement your outfit, but it's big enough to carry items you buy when you're out and about, carry your towel and sunblock if you're going to the beach, and so much more! Be sure to check out the adorable tote bags from Saturday Morning Pancakes that feature your favorite punny sayings.
Shirt Dress
The problem with most summer wardrobes is that you find yourself struggling to find a balance between comfy and cute. The answer? A shirt dress! Shirt dresses are an amazing invention that combines the comfort and soft texture of your favorite t-shirt with the put-together look of someone who took hours to create the perfect look. The best part about shirt dresses is they come in a variety of different styles. Some come with a waist belt that you can tie in a knot or a bow to help accentuate your waist, while others just look like an extra-long t-shirt! You honestly can't go wrong with either.

White Tee
A white tee may seem boring, especially when there are so many other fun summer colors, but it's an essential part of your wardrobe for a reason. Let's say you find a colorful skirt with a crazy pattern. Pairing your new favorite skirt with a white top helps you look put together, while highlighting your amazing find. You can also pair a white tee with your favorite pair of shorts or a cute jacket — the possibilities are endless! A comfortable white tee is extremely versatile, making it the perfect addition to any wardrobe. That being said, if you're planning on wearing your new favorite white tee to your uncle's barbeque, you might want to consider investing in more than one.
Cute Graphic Tee
Come on, let's be honest — you can NEVER go wrong with a
cute graphic tee
! If you're going for a classic, stylish look, you can pair your favorite graphic tee with your favorite shorts, and some cute sneakers for a day out and about with friends. You can also pair a graphic tee with your favorite solid-print maxi skirt for a more classy look. Basically, you just can't go wrong with a graphic tee!
Luckily, at Saturday Morning Pancakes, we have graphic tees aplenty! Looking for a throwback shirt with a sassy summer saying? Want to buy a shirt that will have all your mom friends in stitches? We've got it all! Explore our website to find more than a few throwback tees that you will love, and buy your favorites today.