The Best Ways to Celebrate the Fourth of July
The Best Ways to Celebrate the Fourth of July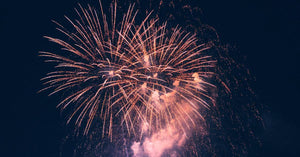 Summer is upon us, and with it comes many reasons to celebrate — graduations, birthdays, Father's Day — but probably the most exciting reason to celebrate during the summer is the Fourth of July! The Fourth of July is a holiday celebrating the day the Continental Congress adopted the Declaration of Independence in 1776, and every year following that day, we've celebrated our country's independence. In today's post, we will provide you with a few ideas of how you can celebrate this year.

Looking for the perfect attire to show the pride you have for your country? At Saturday Morning Pancakes, we offer a variety of shirts specifically dedicated to the Fourth of July. Our throwback tees are the perfect way to show your patriotic spirit, so explore our selection and buy your favorites today!
Watch a Parade
Watching a parade is the perfect way to begin a day of celebration, especially if you are the parent of small children. Parades are spectacles that draw crowds of people cheering and celebrating not only our country, but the town in which they live. Many parades are filled with classics like fire trucks, old cars, and marching bands, but sometimes you can see exciting floats for local businesses, dance teams, and even cute dogs — and who doesn't love a dog in a Fourth of July bandana? However, possibly the best part about Fourth of July parades is the candy.
Throw a Barbeque
When you think of the Fourth of July, you probably picture happy families coming together in someone's backyard while you enjoy delicious foods cooked on the grill. If that's the image you're picturing, then why not use the Fourth of July as an excuse to do just that! Invite all your neighbors, friends, and family to a barbeque at your house (or attend someone else's) and enjoy the company of your fellow Americans. You can eat amazing food and have people bring a variety of their favorite dishes, you can play games, and you can even take part in some friendly competition.
Enjoy the Fireworks
Regardless of how you choose to spend the day on the Fourth of July, there is one thing that everyone looks forward to when the sun finally sets — fireworks. A fireworks display is the cherry on top of a great day, plus it's something the entire family can enjoy! Most towns or counties offer one big fireworks display that's put on by the city, or you may prefer to do your own. Even if you're not into the huge displays of fireworks, at the very least, you can enjoy handing out sparklers once it gets dark.

Dress for the Occasion With Saturday Morning Pancakes!
Even if you don't have big plans for the Fourth of July, there's nothing wrong with dressing the part! At Saturday Morning Pancakes,
our collection of throwback tees
is filled with punny shirts that are perfect for the upcoming holiday. Show your pride while making people laugh with some sassy sayings or hilarious puns, and fill your cart with Fourth of July throwback tees for the whole fam!