Gobble Up These Amazing Products From SMP!
Gobble Up These Amazing Products From SMP!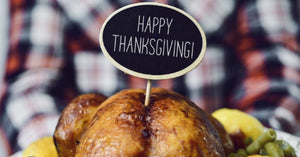 Thanksgiving is a holiday that is often overlooked, but here at Saturday Morning Pancakes, we can't imagine a better holiday than one that is dedicated to spending time with your crazy relatives while stuffing your face full of delicious comfort food. 🍗 Unlike other holidays where you might want to dress up in nicer clothing to impress those picky grandparents, Thanksgiving is all about stretchy shirts and elastic waistbands, am I right?

Looking for that perfect shirt to wear this Thanksgiving that shows what you're truly thankful for? At Saturday Morning Pancakes, we offer an extensive selection of festive holiday tee shirts that are the perfect amount of comfort for when you inevitably fall into that after-dinner food coma.🥧 Find the perfect holiday tee shirt for you, and be sure to check out some of our favorite tees listed below!
I Woke Up In Feast Mode Adult Unisex Tri Blend Tee
Thanksgiving is supposed to be about spending time with your loved ones and sharing what you're thankful for, but what people really look forward to is the food. From green bean casseroles, mashed potatoes 🥔, and steaming hot rolls to that amazingly juicy turkey, Thanksgiving is a feast fit for a champion. If you are one such champion, then the I Woke Up In Feast Mode tee is the perfect addition to your wardrobe. You can show the world that you are ready to eat, and all of your relatives are sure to show you their respect for your dedication to the meal.
Let's Get Basted Adult Unisex Flannel
In addition to the turkey and all your favorite sides, there is one guest that is always a must — wine!🍷 Whether you're celebrating with friends or trying to keep your cool around your overly political relatives, wine is sure to be your very best friend on Thanksgiving, and our Let's Get Basted flannel is the perfect complement! The hilarious play on words is sure to bring a smile to everyone's face, especially when you come prepared with a bottle (or three) of wine. Nobody brings the party like Saturday Morning Pancakes, and when you wear this shirt this Thanksgiving, you'll let everyone know that you are there for a good time.
I've Got Those Hungry Eyes Adult Unisex Tee
If you've been waiting all day — more like all year — to sink your teeth into your Thanksgiving meal, then Saturday Morning Pancakes can help you express that
you mean business. When you walk into the room wearing your I've Got Those Hungry Eyes holiday tee shirt, you're sure to get one of two reactions 1) appreciative chuckles for the throwback reference, or 2) scared looks as people get out of your way so that you can get at the food (especially if you walk into the room fork first). Check out this amazing tee, and remember: nobody puts turkey in a corner! 🦃
Hey There Pumpkin Adult Soft Denim Button Up
Some people enjoy looking a little nicer for Thanksgiving with their family, and if you're looking for a way to look nice but still feel insanely comfortable, then our Hey There Pumpkin denim shirt is for you! This classic denim shirt will make you look more put together than you might feel on a daily basis (PREACH, sister), but you still have the same level of comfort that you would with your favorite tee. The "Hey There Pumpkin" stitching adds a cute little bonus, allowing you to combine cute puns with a classy look.
I Yam Whatever You Say I Yam Brick Unisex Tee
Tired of your family getting on your case about every little thing you do? Trust us, we understand that pain. Luckily, with this super comfy holiday tee shirt from Saturday Morning Pancakes, you can throw it back to your favorite rap from the early 2000s while also telling your family that you don't care what they have to say with a splash of Thanksgiving humor. When you wear the I Yam Whatever You Say I Yam shirt, you're sure to elicit a few smiles from your relatives, even if they don't entirely understand the reference.
Gear Up for Thanksgiving at Saturday Morning Pancakes!
Whether you're looking to give thanks all November long, or you want the perfect holiday tee shirt for Thanksgiving day, Saturday Morning Pancakes has just what you need! We offer an extensive collection of tees featuring 90s hip hop references, puns, and so much more. Before you know it, you'll have too many punny tees to fit in your closet (solution: buy another closet). Gear up for the best holiday of them all, and start shopping SMP's Thanksgiving collection today!
Saturday Morning Pancakes